Professional dog walking & dog sitting for your dog in central Tokyo area.(Sendagaya, Shibuya, Shinjuku)
About pawsome
Looking for someone who can take care of your dogs in Tokyo? Pawsome provides dog-sitting services in Shibuya, Shinjuku area, with customized services that fits your needs.
Area
Tokyo Shinjuku, Shibuya area
* Contact us if you are outside of those wards but wanting our services.
Hours
Weekday 10:00 〜 18:00 (We are flexible in hours – please contact us with your request)
Form of Payment
We accept Cash, PayPay
Services
60 min Dog Walk
1 on 1, safe, fun walks for your dog for 60 min.
Price: 1 hour 6,000 JPY


60 Min Dog Sitting
In-home pet visits while you are away.
Price: 1 hour 4,000 JPY
Rates
Single rates for each service, from Toy Breeds, Small Breeds, up to Medium. No membership fee. Transportation fee included. Let us know if you have more than one dog needing a care. For Sleep-overs, please contact for pricing.
Contact Us
Profile
We are certified by Tokyo Metropolitan Government as a professional pet sitter. We are a mature, responsible pet sitter to put your dogs first.
動物取扱業責任者 標識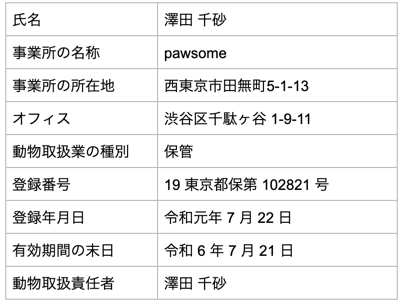 Office Location:
Frencia Gaien Nishi 1-9-11
Sendagaya, Shibuya, Tokyo
paw@pawsome.tokyo